There is a debate on whether Timberland boots are vegan or the opposite? Most Timberland boots are made with animal products. However, this brand proposes some options made of vegan material that are just as good.
You can still find below Timberland boots that are made specifically for vegan enthusiasts.
Comparison Chart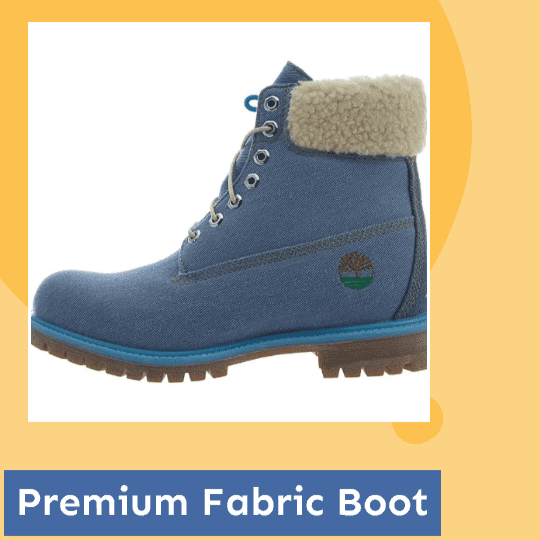 An extremely rough and tough boot that looks the part. They made these boots with a softly padded fabric collar partially visible and made of 50% recycled plastic bottles. This adds to the allure of these wonderfully vegan boots.
All the hardware on these boots is rustproof for extra durability, including the lace-up eyelets, along with Taslan® fiber-containing laces for plenty of resistance to rubbing and wearing out. The canvas body of the shoes is water-resistant with oil stain proofing that makes them just as good of a work boot as they are a fashion statement.
Also, these wonderful boots have a padded footbed for added comfort and a robust rubber lug outsole that gives you supreme traction as you travel. In all, these boots are as tough as they are posh.
Pros:
Have a padded fabric collar made of 50% recycled bottle plastic. This is part of the reason for the tree logo, as these boots are as green and environmentally friendly as they come.
Also, the canvas body of these boots is water-resistant and has oil-stain-proof qualities that make them both wonderful as work boots and stylish as trendy fashion boots.
The super-strong studded rubber lug outsole gives you the best traction, with a softly padded footbed that makes you feel like your feet are floating on clouds as you walk in these boots.
Cons:
At 1 lb 13 oz per boot, they are a little heavy for those with weaker ankles and legs.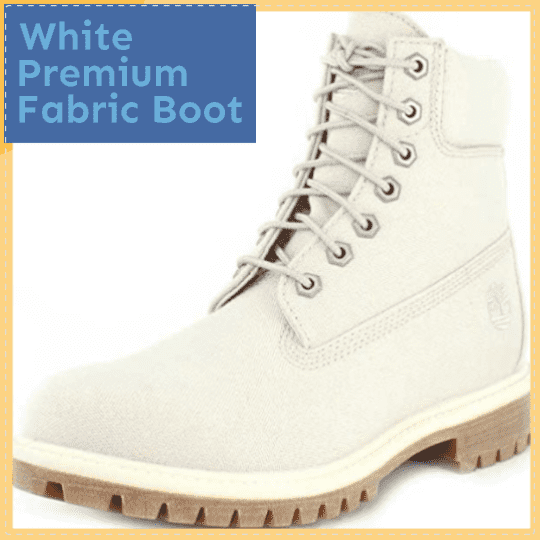 These 6-inch/half-high boots feature a variety of aspects that make them a fantastic boot choice for both forms and function. They are full lace-up boots with reinforced metal eyelets to prevent any wearing out over time.
The laces themselves are even wear-proof for added protection, adding to the longevity of these boots.
Timberland made these boots to last. So, you will have them around for a long time, and they make an excellent footwear investment.
The fabric body is made partially with recycled bottle plastic to add to the environmental conscientiousness of these boots, their manufacturer, and the wearer.
The super-strong rubber lug outsole is robust and ruggedly designed for peak traction, even in slippery, muddy conditions. A rounded toe and softly cushioned footbed make these boots awesomely comfortable.
Finally, the canvas body of these boots is water and oil-stain resistant to hold all liquids outside of the boot and keep your foot consistently dry.
Pros:
The half-high, 6-inch lace-up boots offer plenty of features that extend their lifespan, and the reinforced metal eyelets are just one of those significant aspects.
The entire canvas body is water and oil-stain resistant to keep your feet dry and clean while wearing these boots.
They come in wonderfully stylish color choices like the always popular, bestselling cream-colored version.
Cons:
The super-popular cream color may quickly show dirtiness, but if the boots are cared for, a little dirt adds to their character.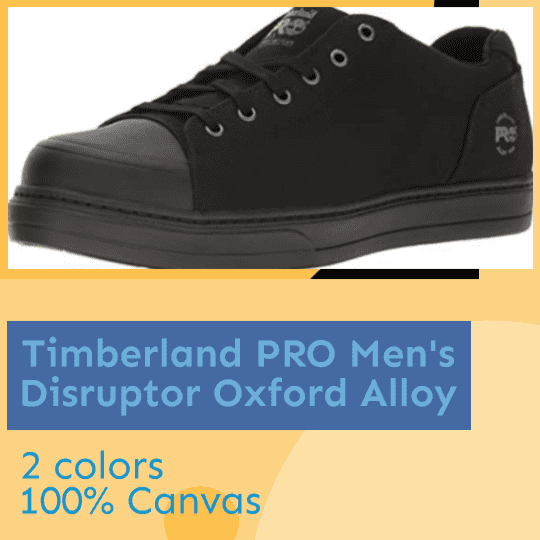 Timberland Boot Company set out to make a comfortable, durable, and protective work shoe for those with very demanding and dangerous jobs. The solid alloy safety toe of these work shoes allows for optimum safety in the case of dropped materials, pallets, and other heavy objects. This keeps your toes safe in a hazardous work environment.
They also offer you electrical shock prevention because of the way they are grounded and the materials they choose to use in the construction of this work shoe.
The outsole is oil slick stains and heat resistant to provide a premium level of protection against risky working environments. The color choice of all black or black over a white bottom and toe helps to make these shoes perfectly blend in and match your clothes no matter what your job's uniform may require you to wear.
The sharp modern look creates a dapper quality to these shoes, making them just as good for a night out on the town as low-top work boots. They are made with oxford styling using a 100% canvas upper and a robust rubber lower that have been securely combined around an alloy capped toe piece.
This was all made possible by Timberland PRO, which fills the void of a top-of-the-line intersection between casual and professional footwear.
Pros:
This oxford shoe is made for hazardous jobs and features a rounded, metal-reinforced alloy safety toe. This prevents your toes from being crushed and injured should something heavy fall on your foot.
It is a lovely and style-focused shoe made of 100% canvas on top and a ruggedly strong rubber bottom. Combining these two pieces makes this shoe one of the best work shoes available.
Comes in two color choices; one is all black, and one is black upper canvas over a white rubber bottom and toe.
Cons:
Because of the alloy safety toe, these shoes are heavier than other options but comparatively light when put side by side with different steel toe boots.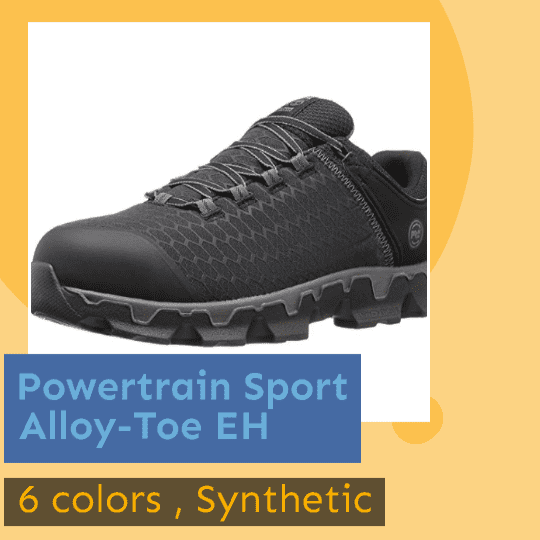 Timberland PRO makes these very pleasing-looking and sporty shoes to make working an extra-long workday as comfortable as possible.
They do this with the built-in Anit-Fatigue technology that allows for supportive cushioning and puts a spring in your step by returning some of the low energy of a step into your upwards stride. This makes these shoes easy on the feet and makes having to stay on your feet or walk all day long easier.
They also feature a metal reinforced alloy toe, making these shoes the ultimate protective footwear option. Another excellent quality they have is their anti-electrical-shock feature, which means they were designed to be grounded and can protect you from all kinds of hazards you may encounter in your tough and dangerous job.
These sports shoes are also great for around-town shoes because of their super stylish looks with sleek minimalistic lines that make big feet look smaller and small feet look bigger. They have that magical quality that sets them apart from others just by how they perfectly meet in that place where style and function collide.
Pros:
A very sporty pair of work shoes double as a great and stylish pair of going-out-on-the-town shoes. They are great everyday wears that will last a long time even with this daily use.
They feature a built-in Anti-Fatigue function that puts a spring in your step by returning downward force into upward momentum. This keeps you from wearing out even when you must be on your feet for a super long shift at work.
These sports boots have a metal alloy toe that reinforces foot safety by protecting you from falling objects, but they are also grounded out to prevent any electrical shock. Overall, a great and safe work shoe for everyone who has a tough or dangerous job.
Cons:
These low-cut sports shoes do not have the largest amount of ankle support. Combine that with the extra weight of a metal toe, and you get reports of easily sprained ankles.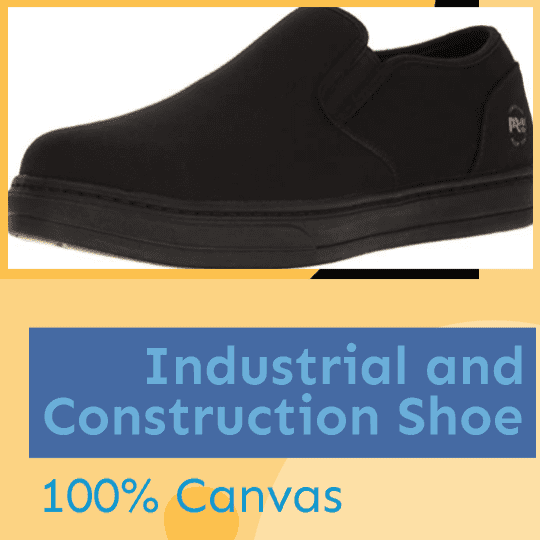 These shoes have a whole canvas body that is heat resistant up to 248 degrees Fahrenheit and extremely resistant to abrasion from those with highly active jobs that keep their feet in contact with many objects or for those who use their feet as tools to speed up specific work tasks.
Also, the soft inner sole is removable for easy cleaning or replacing with extra supportive shoe inserts.
The inner sole has anti-microbial properties that keep the odor from building up and keep your feet as dry as possible even as you sweat your way through another workday. With an entire robust canvas body, they had to find a matching bottom to attach them to, and they did just that. These boots have a superbly strong fully rubber bottom with a studded lug traction design great for giving you the best foot-hold in nearly any situation. This will give you extra confidence in your footing while wearing these shoes.
Combined, the canvas upper and rubber bottom creates a rugged but still casual style of shoe that is wearable in a vast array of situations. Finally, these shoes are slip-on, which means they can be easily put on or taken off, and this will open up your time by making them great shoes for those in and out of their footwear throughout the day.
Pros:
The amazing canvas body of these shoes is not only abrasion resistant but also resistant to scorching heat up to 248 degrees Fahrenheit.
The anti-fatigue and anti-microbial inner sole is removable for easy cleaning or drying out of your shoes.
These very casual yet still serious shoes are a slip-on design, so there are no laces, zippers, buckles, or Velcro to worry about as you put them on and take them off.
Cons:
Because of the slip-on design, these shoes have been reported to be tough to size ideally. Many claim they needed to try up to 4 different sizes before finding the perfect glove-like fit.
Other options:
For a more extensive catalog of products on the Timberland website, click here.
Tips On Finding Vegan Boots
Here is a small guide on how to show for boots while keeping true to your vegan lifestyle.
The label or inner sole
The first thing to do is check out the label or inner sole. It should be listed there. The boot will be non-vegan unless it says 100% synthetic or manmade materials.
What happens if the label has nothing? Check with the company before buying or passing.
Ask the company
One of the best things you can do is go online. Google the style of boots with the online company. Ask questions before buying. You need to be specific with your question, or you will not get the best reply.
The company might decline to provide an answer altogether. Sometimes it is due to the person not knowing the answer. Other times it is because the person does not want to answer.
We suggest passing on the product if that happens.
Conclusion
Recently, Vice Presidential hopeful Kamala Harris made waves in the fashion industry when she wore a pair of Timberland boots while visiting the destroying areas caused by wildfires in Northern California. Her choice of wearing these stylish boots was widely applauded for being conscientious and practical for the setting.
The rush to get boots was dramatic, but many people were unaware of Timberland's many options in industrial-strength shoes and fashionable boots.
So, we have compiled a list of the top 8 footwear designs made by the Timberland Boot Company. We have laid out what makes each one different for you to easily scan and choose your favorite option quickly without having to do all the necessary research.
They all offer something unique. Some work best for specific situations or applications, and knowing which ones are helpful when deciding on a modish choice of new footwear for yourself.
Finding vegan boots (like Timberland) is not as difficult as it might sound. You have to know what questions to ask and where to look. We hope this helps.